Digital Gramin Seva Login: Digital Gramin Seva Kendra is a private company opened under Digital Gramin Seva Kendra India. Digital Seva Kendra is a kind of CSC! and at Digital Gramin Seva Kendra. The benefits of various types of digital services related to the government and banks are given. To open a Digital Seva Kendra, first, you have to fill out a Digital Seva Kendra Registration Form! Then you get the login account and password of the Digital Connect portal! This Digital Seva Login ID and Password provides the services of your Digital Seva Kendra. If you want to get all the information related to Digital Service Center!
In Hindi:- डिजिटल ग्रामीण सेवा केंद्र डिजिटल ग्रामीण सेवा केंद्र भारत के तहत खोली गई एक निजी कंपनी है। डिजिटल सेवा केंद्र एक तरह का CSC है ! और डिजिटल ग्रामीण सेवा केंद्र में। सरकार और बैंकों से संबंधित विभिन्न प्रकार की डिजिटल सेवाओं का लाभ दिया जाता है। डिजिटल सेवा केंद्र खोलने के लिए सबसे पहले आपको एक डिजिटल सेवा केंद्र पंजीकरण फॉर्म भरना होगा ! फिर आपको डिजिटल कनेक्ट पोर्टल का लॉगिन अकाउंट और पासवर्ड मिल जाता है ! यह डिजिटल सेवा लॉगिन आईडी और पासवर्ड आपके डिजिटल सेवा केंद्र की सेवाएं प्रदान करता है। अगर आप डिजिटल सर्विस सेंटर से सम्बंधित सभी जानकारी प्राप्त करना चाहते है
Also, Read- Digital Panchayat.ap.gov.in, Benefits, Details, Available Services, AP Digital Panchayat Mobile App… Read More
Types of Digital Gramin Seva Kendra Registration
The registration form has been given on the official website of Digital Gramin Seva Kendra. Any rural shopkeeper can register his shop there.
There are three types of registration
Distributor Registration
Retailer registration
Master Distributor Registration
Digital Gramin Seva Kendra Registration
To fill out the registration form, first of all, go to the website https://digitalgraminseva.in/
After visiting the website, you have to click on the registration link in the top menu.
Enter your shop name and shopkeeper's name in the registration form.
Then you have to enter your Aadhaar, business address, and mobile number.
Enter shop information!
After this, the registration form has to be submitted.
Digital Gramin Seva Kendra Login
First of all, go to the Digital Gramin Seva Portal. Click here to go to the portal.
Click on the Login link in the menu!
Enter your username and password!
Then Verify Login Captcha!
Document
Aadhar Card
Proof of Store
Pan Card
Mobile Number
Email Address
Digital Gramin Seva Kendra List Of Services Offered
Banking Services
Micro ATM
Hitachi ATM
Android ATM Machine
Kiosk Banking & CSP Apply
Prepaid Card Apply
Online Account Opening
loan
VAS Services
AEPS
Recharge
Money Transfer
BBPS
Credit Card Bill Payment
Insurance Bill Payment
LIC Bill Payment
Insurance Enrollment
Travel Services
Hotel Booking
Bus Booking
Flight Booking
IRCTC
State Certificate
Income Certificate
Caste Certificate
Death & Birth Certificate
Domicile Certificate
Disability Certificate
Other Certificate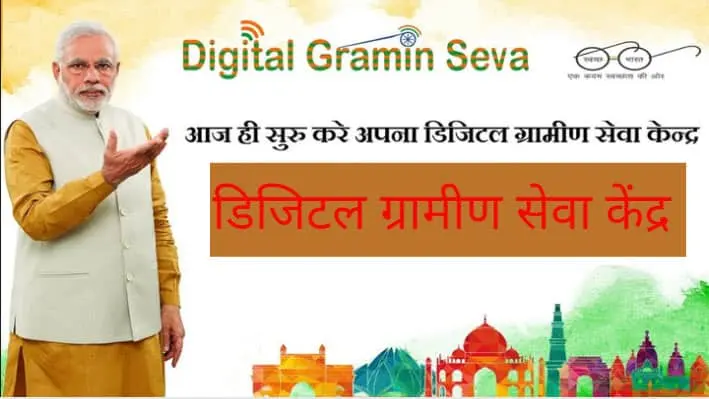 GST Seva Kendra
GST Return
Company Registration
New GST Registration
TDS
PAN Card
Other Services
Voter ID Card
Driving License
Passport
Food License Enrollment
e-commerce
EPFO
Online FIR
Benefits to Customers
Kiosk banking service brings a number of unique benefits to all the customers as mentioned below.
Banking facility near customer location
Avail of basic banking services without visiting bank branches
Kiosk machines and other facilities are convenient to use
Enhanced and secure banking experience
Hassle-free money transfers, withdrawals, and deposits
Long banking hours, outlets accessible as long as they are open.
Open a no-frills account with no minimum balance or levied charges
If the balance is more than the above amount, then get the account converted to a regular bank account.
Avail facility for savings like Fixed Deposit, Recurring Deposit
Withdrawal facility through ATM card for customers above 18 years of age
Suggested Link:- National Scholarship Portal
@Ron