The Pradhan Mantri Gramin Digital Saksharta Abhiyan (PMG DISHA) benefits about six crore households, making them digitally literate. With PMGDISHA, most rural households would benefit and enhance their livelihood. This scheme helps the Digitally illiterate people to actively learn IT skills, which will help them participate in the democratic and developmental process. This initiative is part of the Digital India programme which aims to transform India into a digitally empowered society and knowledge economy.
प्रधान मंत्री ग्रामीण डिजिटल साक्षरता अभियान (पीएमजीदिशा) से लगभग छह करोड़ परिवारों को लाभ होता है, जिससे वे डिजिटल रूप से साक्षर हो जाते हैं। पीएमजीदिशा के साथ, अधिकांश ग्रामीण परिवारों को लाभ होगा और उनकी आजीविका में वृद्धि होगी। यह योजना डिजिटल रूप से निरक्षर लोगों को सक्रिय रूप से आईटी कौशल सीखने में मदद करती है, जिससे उन्हें लोकतांत्रिक और विकासात्मक प्रक्रिया में भाग लेने में मदद मिलेगी। यह पहल डिजिटल इंडिया कार्यक्रम का हिस्सा है जिसका उद्देश्य भारत को डिजिटल रूप से सशक्त समाज और ज्ञान अर्थव्यवस्था में बदलना है।
Eligibility:
The scheme applies only to the rural areas of the country. The eligibility for a household is that none of the members of the household is digitally literate. The household comprises the head of the family, spouse, children and parents.
Also Read: MeeBhumi, Details to getting Access to MeeBhumi Portal, Adangal…Read More.
यह योजना केवल देश के ग्रामीण क्षेत्रों के लिए लागू है। एक परिवार की पात्रता यह है कि परिवार का कोई भी सदस्य डिजिटल रूप से साक्षर नहीं है। परिवार में परिवार का मुखिया, पति या पत्नी, बच्चे और माता-पिता शामिल हैं।
Entry criteria:
The eligible age group for the scheme would be from 14 years to 60 years old people. The beneficiary under this scheme should be digitally illiterate. Only one person from a household would consider training under the scheme.
Priority would be given to college dropouts, non-smartphone users, Antyodaya households and the participants of the adult literacy mission. School students from classes 9th to 12th who are digitally illiterate, are provided with the facility; but IT training is not available in the schools.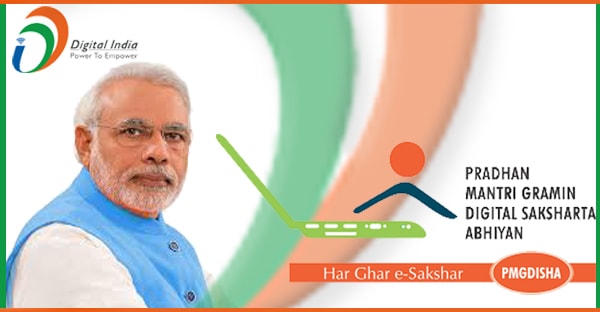 Preferences would be given to SC/ST, BPL, women, differently able people, and other minorities. The scheme portal would make available the identification of beneficiaries that shall carry out by Common Service Centres CSC- SPV through collaborations with the e-Governance Society in each district, block development officers, and gram panchayats.
The objective of PMG DISHA:
Skill development and the creation of skills and talent is an important mission to ensure that the rapidly growing Digital Economy of India provides the trained and skilled manpower that requires. To further aid digital adaption, the Ministry has focused on digital literacy for citizens across the country, especially in rural areas. In line with this, the Pradhan Mantri Gramin Digital Saksharta Abhiyan(PMGDISHA) was approved by Union Cabinet in February 2017 to usher in digital literacy in rural India.
The main objective of the PMGDISHA Scheme is to impart digital literacy training by covering 6 crore rural households (one person per household) so that they can operate computers/digital access devices (like tablets, smartphones, etc.), send and receive emails, browse the internet, access Government Services, search for information, undertake cashless transactions, etc. and hence use IT to actively participate in the process of nation-building.
कौशल विकास और कौशल और प्रतिभा का निर्माण यह सुनिश्चित करने के लिए एक महत्वपूर्ण मिशन है कि भारत की तेजी से बढ़ती डिजिटल अर्थव्यवस्था प्रशिक्षित और कुशल जनशक्ति प्रदान करे जिसकी आवश्यकता है। डिजिटल अनुकूलन में और सहायता के लिए, मंत्रालय ने देश भर के नागरिकों के लिए विशेष रूप से ग्रामीण क्षेत्रों में डिजिटल साक्षरता पर ध्यान केंद्रित किया है। इसके अनुरूप, ग्रामीण भारत में डिजिटल साक्षरता की शुरुआत करने के लिए फरवरी 2017 में केंद्रीय मंत्रिमंडल द्वारा प्रधान मंत्री ग्रामीण डिजिटल साक्षरता अभियान (पीएमजीदिशा) को मंजूरी दी गई थी।
PMGDISHA योजना का मुख्य उद्देश्य 6 करोड़ ग्रामीण परिवारों (प्रति परिवार एक व्यक्ति) को कवर करके डिजिटल साक्षरता प्रशिक्षण प्रदान करना है ताकि वे कंप्यूटर / डिजिटल एक्सेस डिवाइस (जैसे टैबलेट, स्मार्टफोन, आदि) संचालित कर सकें, ईमेल भेज और प्राप्त कर सकें, इंटरनेट ब्राउज़ करें, सरकारी सेवाओं का उपयोग करें, जानकारी की खोज करें, कैशलेस लेनदेन करें, आदि और इसलिए राष्ट्र निर्माण की प्रक्रिया में सक्रिय रूप से भाग लेने के लिए आईटी का उपयोग करें।
Implementing Agencies:
The scheme will be under the direct supervision of the Ministry of Electronics and IT with designated agencies in the States and Union Territories; which includes the State Implementing Agency, District e-Governance Society (DEGs) etc.
Also Read: Adhar Card Print, Aadhar Card Download, How to Print, Points to…Read More.
Financial Assistance:
On successful certification of candidates trained by the training partner; a training fee of Rs.300 per candidate is payable directly to the training partner through CSC. Based on the outcomes achieved, the training partners will be receiving the payment. Input from the DeGS is necessary for the same. This can include making digital payments, opening a digital locker, sending e-mails, booking tickets etc. Therefore registered certifying agency will be paid Rs.70 per candidate as a certification cost/examination fee for the assessment and certifications. For monitoring the scheme and meeting the overhead cost; therefore states and union territories will receive an average of Rs.2 per candidate.
Useful Links:
NSP Scholarship Last Date 2022, Mobile No Tracker Online, Ayush Full Form, Mobile Locator, Free Career Guide, Simple Typing Test in Hindi, Driving License Download, My Individual Business, Niece Meaning in Hindi.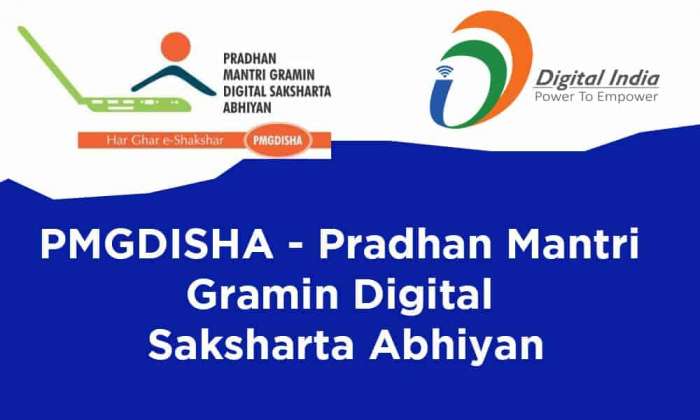 Training Process:
The training period is a minimum of 10 days and a maximum of 30 days during which the course has to complete. The duration of the training is 20 hours, which has to complete within the training period.
Outcomes of the Training

Effective communication through technology.
The basics of digital devices, including the terminology, navigation and functionality, will understand.
Digital devices use effectively to create, manage, access, and store information.
Therefore effective usage of the Internet to browse responsibly.
Learning the usage and carrying out cashless transactions.
Usage of digital locker uses online citizen-centric services.
Using digital technology in everyday life, at work and in social life and appreciating its role.
Training Partners:
The Scheme anticipates affiliations with organizations like NGOs/Corporates who desire to provide digital literacy training as Training partners; which is subject to meeting prescribed norms. Therefore norms are as follows:
The training partner who desires to provide digital literacy training must be in a registered Indian institution in the field of education/IT literacy for at least more 3 years.
Therefore training partner must have a Permanent Income Tax account number (PAN); audited statements of accounts for at least the past three years.
Registration under any act of law in India is a must for the institution/organization.
Well-Documented processes and procedures covering the course of education and IT literacy training must define clearly by the training partner.
Also Read: SSUP Portal, How to Update Aadhar Card Details, Update through Aadhar…Read More.
Role of a Training Partner:
The beneficiaries would train by the training partners who will responsible for having or appointing training centres in the identified blocks, districts and gram panchayats.
All training centres must uphold the PMGDISHA requirements, and the training partner will be responsible for the same.
The overall working of the training centre and the monitoring of the same will be the responsibility of the training partner. Every centre under the purview of the training partner will be accountable
Therefore work mentioned above, accurate and timely reporting of the assigned centres will be the responsibility of the Training Partner.
Outcomes of PMGDISHA:
Digital literacy is a set of competencies an individual or a community possess involving the effective use of digital knowledge in daily life situations which will also improve their livelihood. A person trained under this program would be able to operate computers, send/receive emails, undertake cashless transactions, search for information, access Government Services etc. and hence use the ability in the process of nation-building and contributing to the nation's economic growth.
डिजिटल साक्षरता एक व्यक्ति या समुदाय की दक्षताओं का एक समूह है जो दैनिक जीवन की स्थितियों में डिजिटल ज्ञान के प्रभावी उपयोग को शामिल करता है जिससे उनकी आजीविका में भी सुधार होगा। इस कार्यक्रम के तहत प्रशिक्षित व्यक्ति कंप्यूटर संचालित करने, ईमेल भेजने / प्राप्त करने, कैशलेस लेनदेन करने, सूचना की खोज करने, सरकारी सेवाओं तक पहुंचने आदि में सक्षम होगा और इसलिए राष्ट्र निर्माण की प्रक्रिया में क्षमता का उपयोग करेगा और राष्ट्र के आर्थिक विकास में योगदान देगा।
What is PMGDISHA?
Pradhan Mantri Gramin Digital Saksharta Abhiyaan(PMGDISHA) is the scheme to make six crore persons in rural areas, across States/UTs; digitally literate, reaching around 40% of rural households by covering one member from every eligible household.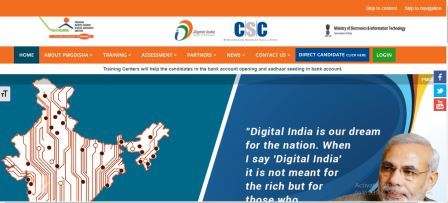 When was PMG Disha launched?
PMG Disha was approved by the government in February 2017. PMgDiSHA would cover 6 crore persons, one member from every eligible household across all gram Panchayats in States/UTS; and make them digitally literate.
Also Read: Voter ID Card Online, Digital Voter ID Card Download, Key Highlights…Read More.
Who can open an account under PMG Disha?
Nominated digitally illiterate person from every eligible rural household. The eligible households can nominate one person from their family. Therefore selected persons to get themselves enrolled under this programme in the nearest Training Centre/ Common Service Centre (CSC).
WHO launched PMG Disha?
Shri Rajeev Chandrasekhar, Hon' Minister of State; Ministry of Electronics & IT launched the PMGDISHA Drive & Announced 100% Digital Literacy for 75 Villages.
What is Saksharta Abhiyan?
The Digital Saksharta Abhiyan or National Digital Literacy Mission (NDLM) Scheme has been formulated to impart IT training to 52.5 lakh persons; including Anganwadi, ASHA workers and authorised ration dealers in all the States/UTs across the country.
Useful Links:
My Bangalore Mart, Create Paypal Account, Docsity.com, Udyog Aadhar Card, NSP Scholarship Last Date 2022, Neeta Ambani Contact Details, Digitize India, List of Fruits, Bhulekh Jharkhand.